Image of the Day No. 10 - Warwickshire Wedding Photography
See older blogs in my
Blog Archive>
Today marks the final blog post in the 'Image of the Day' series. We've bounced around all over the place looking at different times of a wedding day; starting with bridal preparations, the arrival of the bride before the service, the service itself, a couple of Bride and Groom formals and an amusing family group formal. Yesterday's image came from the gorgeous county of Derbyshire, and today returns back to the West Midlands.
Background - Kate and Mark's wedding was held at All Souls Church in Coventry. Their wedding was meticulously planned, with the Bride and Groom being very hands on with all of the preparations. They weren't the only ones involved, they had loads of helpers including friends and family. There was a lovely feeling of the community pulling together to help Kate and Mark have a superb day.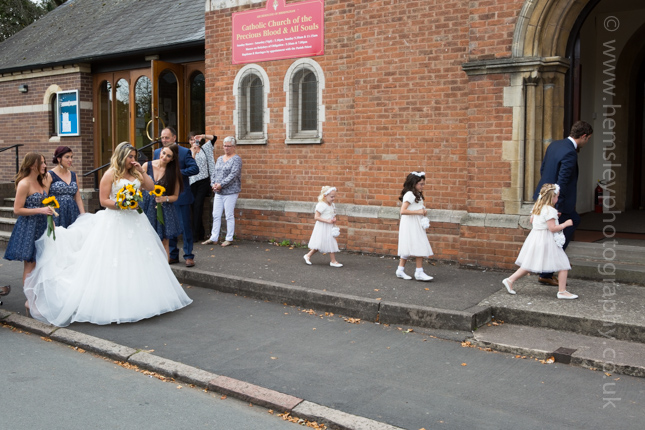 You can see that Kate has already arrived at the Church, which means everyone is waiting inside for her arrival. Kate is surrounded by her three Bridesmaids, her Dad and three flower girls.
So why do I like this image? Moments like these are hardly seen by anyone involved in the wedding, that's why it is nice to capture this moment if possible. The Groom of course is having his own thing going on at the time, that's why it will be interesting to him post wedding to see what happened outside. I love how there is movement leading towards the enterance of the church with the flower girls. I love how attentive the Bridesmaids are towards Kate. Something else made this particular moment even more special.
Wihout going into too many details, there was a close family member who had the possibility of not being able to to attend the wedding service. However, Kate had just caught sight of this family member who remarkably had in fact made it to church. You can just about make out that Kate is having a little emotional moment. When Kate and Mark viewed their photos with me a few weeks after their wedding, this photograph was shown and was appreaciated hugely. A lucky shot on my part? Perhaps. But I think it goes to show how powerful photographs can be sometimes as reminders of moments in life. Viewed by outsiders, this image wouldn't mean much at all. But for those involved, it does.
Technical Details:
Camera - Canon EOS 5D Mark III
Lens - Canon EF 24-70mm f2.8 L USM at 40mm
Aperture - f11
Shutter - 1/160 sec
ISO - 400
Exposure Bias - +1/3 EV
Flash - Did not fire
This image was post processed in Adobe Lightroom v5, using my preferred method of subtle adjustments to colour contrast and levels and curves.
I hope you've enjoyed this blog series over the last two weeks, I've really enjoyed sharing my thought's with you on how my brain works when photographing a wedding day. If you missed the start of the series at the beginning of last week, click here for a link. If you have any questions at all about wedding photography, then please do contact me and I'd be happy to help out, click here on how to contact me. Feel free to share away on Facebook, Pinterest, Twitter and Google+ by using the social media icons. Have a great weekend everyone. Martin.
Read previous/next blog article: